For almost 35 years, Rainbow Travel has been in business under the same ownership. The dedicated staff and independent agents are conscientious, loyal and experienced, having personally visited over 160 countries and cruised on 100 ships. Our desire is to share our experiences with future travelers to enable them to choose the destination most suited to their individual needs. We want to provide you with a level of unmatched service! Rainbow Travel exemplifies business integrity, outstanding travel expertise and a high level of civic involvement.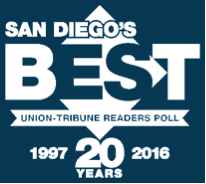 The Union Tribune for the past 20 years has asked readers to nominate the "best" in 175 categories of all types of businesses. We are delighted to announce that 
Rainbow Travel 
was voted second place in this years awards and first place for independent travel agency.